Santa is coming to St. George Island!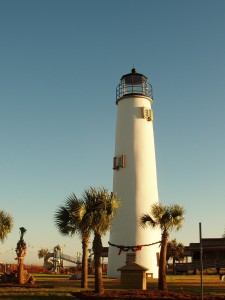 FRIDAY DECEMBER 2, 2011
Join us at the Lighthouse park for Santa on a fire engine, 1 mile fun run and the annual lighting of the trees! Right across the street from the Fickling & Company office.
The one mile "Jingle Jog" starts at 5:00 on the bike path in front of Lighthouse Park and proceeds through the business district. There's no fee; it's a fun run and everyone is welcome! All runners will receive Santa hats for their heads and jingle bells for their shoes. Come a little before 5:00 to sign in.
Santa is expected around 6:00. He will arrive by fire engine and entertain and provides gifts to the children. Refreshments will include snacks, coffee, and hot chocolate. In the event of rain (like last year), many stable tents will be set up. View the lighting of the island palms at sundown.